phones: 0755-23083516
Fax: 0755-23083519
E-mail: main@websitevalsueng.com / sales@websitevalsueng.com
Website: www.websitevalsueng.com
Add: Building D, MajiaLong Industrial Park,Nanshan District,Shenzhen
PNNL promotes the performance of lithium battery with six lithium fluoride as additive
Publish:Sino Energy Corporation Time:2017-03-14
[lithium engineering comprehensive report]
According to foreign media reports, according to the Pacific Northwest National Laboratory (PacificNorthwestNationalLaboratory, PNNL) the study showed that in the double three trifluoromethyl sulfonyl imide lithium bis oxalate lithium borate / carbonate electrolyte solvent double base (LiTFSI-LiBOBdual-salt/ carbonate-solvent-basedelectrolytes) adding a small amount of (0.05M) six fluorine lithium phosphate (LiPF6, lithiumhexafluorophosphate), lithium metal the battery charging capacity and cycle stability will be significantly improved.
According to the study, add the additive to the lithium metal battery after applying moderate high load of 4V at the cathode (1.75mAhcm-2), the ability to maintain its power after 500 cycles (capacityretention) was 97.1%, put in charge of current density reaches 1.75mAhcm-2, the electrode overpotential growth is very limited. The researchers believe that the rapid charge and cycle stability benefited from the lithium metal surface solid electrolyte phase mask (solidelectrolyte) durable, good conductivity and AI cathode collector (cathodecurrentcollector).



The top figure shows the PNNL chemical additives six fluorine lithium phosphate / carbonate solvent adding double base electrolyte, the cycle stability of lithium metal batteries will improve, charging speed, high voltage, charging interval longer.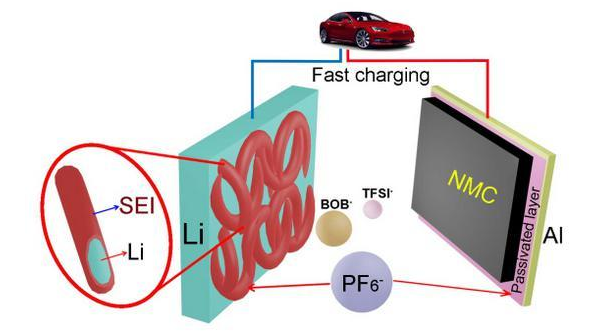 Study on the earlier PNNL is looking for a more excellent performance of the electrolyte, the battery efficiency or made excellent charge but super slow, can not be applied in the high voltage battery charging, or very fast, but not too stable, and low battery voltage.
The researchers tried six lithium fluoride salt would have been used in lithium ion batteries (LiPF6, lithiumhexafluorophosphate) added to the fast charging of electrolyte, configured as a new electrolyte, but also uses a lithium anode and lithium nickel manganese cobalt oxide, and a fast, efficient, high voltage battery was born.
Because of this additive has been applied in lithium-ion battery parts, is now ready to put into use and the price is relatively cheap, but because of its low demand (just 0.6wt%).
The team is continuing to adopt a new approach and evalsuation, hoping to promote the use of the rechargeable lithium metal batteries, the team is committed to improving the electrode, separator and electrolyte. The team will create and test a large number of electrolytes, enhance the material load of the cathode and try to use a thinner anode to further enhance the efficiency and energy retention capacity of lithium metal batteries.
Copyright © 2015-2016 Sino Energy Cooperation All Rights Reserved