phones: 0755-23083516
Fax: 0755-23083519
E-mail: main@websitevalsueng.com / sales@websitevalsueng.com
Website: www.websitevalsueng.com
Add: Building D, MajiaLong Industrial Park,Nanshan District,Shenzhen
AKASOL lithium battery module life extension 50%
Publish:Sino Energy Corporation Time:2017-03-30
[lithium engineering comprehensive report]
According to foreign media reports, after the durability test for up to 8 months after the German high performance battery systems supplier AKASOL said its latest lithium battery module AKAMODULE (divided into 46Ah and 53Ah two versions) can tolerate all kinds of extreme conditions. The test results show that the module adopts liquid cooling design (by internal development), the electric core material is extremely uneven, compared with other manufacturer's specifications, the battery life of up to 50% can be prolonged. If the battery is applied to pure electric buses, even if the mileage of more than one million kilometers, the battery can continue to use.
Under the condition of 25 DEG C, the lithium battery module is used, and the battery module can still be used at the limit temperature of 50-55 DEG C because of its excellent performance.
The AKASOL project management, testing and service department official Bj rnEberleh said: "O respectively through the 8000 and 3000 full load cycle even when the battery module 46Ah and 53Ah version two (fullloadcycles), the capacitance of the battery module can still maintain the initial capacity of 80%. Even if only 30% of the remaining battery power, the battery module can still run, so the full load cycle should be able to reach the total amount of 15 thousand. Another result of the test is that the deterioration of a single core is even, and the results are satisfactory, which will greatly reduce the capacity loss on the assembly line, which means that the battery life can be delayed for a long time."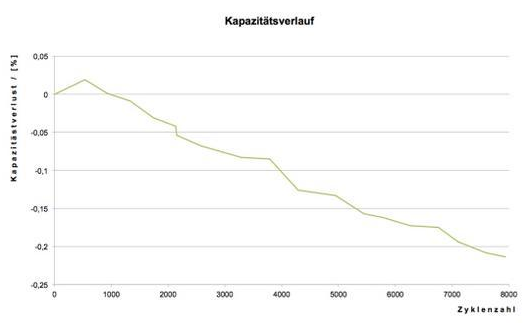 In the indoor test environment, AKASOL engineers will 46Ah and 53Ah two versions of the battery module under extreme conditions test. In the test environment of constant temperature of 50-55 DEG C and 100A, the battery pack can run for 1.5 years (fullcycles). Battery capacity, core voltage and internal resistance of the difference between the battery experts confirmed the previous forecast. In some applications, its performance will exceed expectations.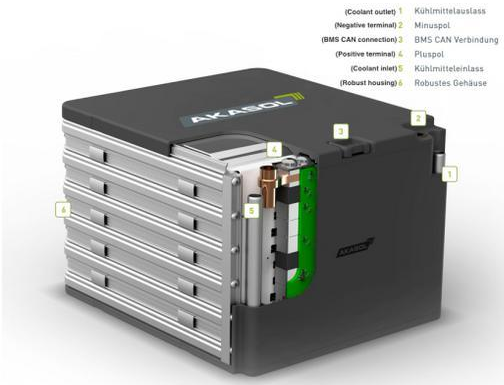 In fact, due to the differences in the production of batteries, all kinds of operating conditions are not the same, in a specific energy storage device for charging, the charging of the core will become uneven. To this end, the battery management system must ensure that the charging state of the battery to the same level. In the multi - core battery, the power balance makes the whole system capacity be fully utilized, and the service life is longer. Battery module of high degree of integration, AKAMODULE energy density of more than 140Wh/kg, so that the vehicle mileage longer, better durability.
AKAMODULE water ethylene glycol mixture was used as coolant. Prior to this, the production of the module as well as the integration of mixed liquid is extremely complex process, and later found a new manufacturing method to simplify, resulting in a substantial reduction in the volume of the battery.
Copyright © 2015-2016 Sino Energy Cooperation All Rights Reserved